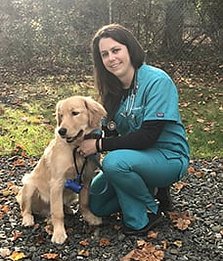 Our Team
Dr. Sarah Mainardi-Wilds
Owner, Mixed Animal Veterinarian

Dr. Sarah Mainardi-Wilds earned her bachelor's degree in Animal Science from University of Delaware. While at UD, she enjoyed spending time on the college's farm, working with the dairy cattle, sheep and horses. Although she always knew she wanted to be a veterinarian, it was during her time at UD, that Dr. Wilds decided to pursue a career as a mixed animal veterinarian. After graduating from the University of Pennsylvania, Dr. Wilds spent time practicing mixed animal medicine in rural northwest North Carolina. In 2015, she moved to Maryland where she continued to practice mixed animal medicine.
When not working on large animals, Dr. Wilds works part time at Arnold Veterinary Hospital taking care of the dogs and cats of Anne Arundel county. She also sees small ruminant and swine appointments at the small animal hospital.
She currently lives in Chestertown with her husband (Marc), son (Benjamin), two dogs (Chance and Rosie), two cats (Sage and Bonkers), and numerous fresh and salt water fish.